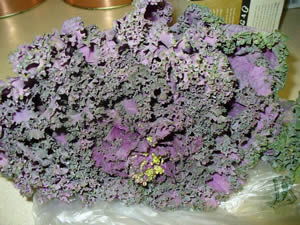 Escarole or any endive lettuce is a great addition as a salad veggie, but it has a slightly bitter flavor.  I like to add a little sweetness to offset it.  I've rarely seen this beautiful purple escarole while the green variety is quite common.  Add a bit of both purple and green color to this salad to obtain a healthy mix of phytonutrients and a beautiful mix of color.
This recipe makes 4 large salads.  I made it with pineapple and mango salsa, but any sweet fruit, like a peach, would work just fine.
Ingredients:
8 bacon slices
1 pound of escarole, coarsely chopped
12 pitted dates, finely chopped
1 cup walnut or pecan pieces
2 cups of mango/pineapple salsa or 4 peaches, pitted and halved
1/2 cup olive oil
2 large shallots, minced
4 tablespoons red wine or balsamic vinegar
Sea salt
Black pepper
Directions:
Cook the bacon in a large skillet over medium heat.  While the bacon is slightly crisping, put together the uncooked ingredients.  Divide the escarole among 4 plates.  Then, divide each of the dates, walnut pieces, and fruit among the 4 plates.  Once the bacon is done, put it on a plate to cool.
Turn the heat down to low.  Discard the bacon drippings and add 2 tablespoons of olive oil to the skillet.  Then, add the shallots and saute until soft, about 3 minutes or so.  Turn off the heat and add the vinegar to deglaze the pan.  Next, add the rest of the olive oil and salt and pepper to taste.  Divide among the plates and top with crumbled bacon.
Serves 4