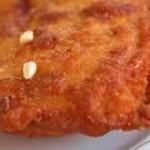 We made Paleo Buffalo Wings for the 4th of July. These boiled and broiled wings were outstanding, tasting as good as any wings we get at a restaurant. I found a recipe "Unvelievable Baked Buffalo Wings," which I modified to suit our needs.
3 lbs chicken wings
1 tablespoon cayenne pepper
1 teaspoon crushed red pepper flakes
1 tablespoon salt
Sauce:
1/2 cup Louisiana Hot Sauce
1/2 cup Tabasco Sauce
4 tablespoons butter
Directions:
Put the wings in a large pot.  Add enough water to cover them plus an extra inch.

Add the next 3 ingredients.

Bring water mixture and wings to a boil and then boil for 15 minutes.

Drain the wings in a colander.

Transfer wings to a broiler pan.  Broil wings for 15 minutes on each side. (For crispier wings, cook longer on each side, up to 20 minutes per side).

While waiting for wings, melt the butter in a sauce pan.  Add in the hot sauce and turn on low heat for 10 minutes.

When wings are done, roll the wings in the sauce and serve the rest of the sauce in small bowls for dipping.