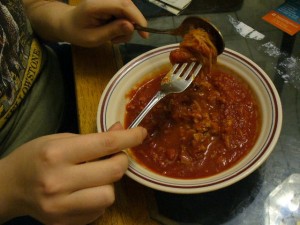 This recipe, which uses spaghetti squash, is a favorite at my house.  It's also a great way to introduce spaghetti squash to those who have never eaten it.
We love the texture of cooked spaghetti squash, which amazingly resembles real spaghetti.
The meat sauce is what really makes this dish so tasty.  I've made this dish with both grass-fed beef and with pastured pork.  Both are great with the wonderful spices in the recipe.
The question I've heard most often about spaghetti squash is: how do you cook it?  It's fairly simple once you cut it in half.
Ingredients:
1 spaghetti squash
1 pound of ground pork or ground beef
1 onion, finely chopped
2 tbsp olive oil
1 tsp paprika
1 tsp fennel seeds
1/2 tsp sea salt
1/2 tsp black pepper
1/2 tsp sage
1/4 tsp white pepper
1/4 tsp cayenne pepper
2 jars of plain tomato sauce or finely crushed tomatoes
 Directions:
Preheat the oven to 400°F.
Cut the spaghetti squash lengthwise and remove the seeds.
On a baking sheet or oven-safe dish, lay the squash halves open sides down.  Add about 1/4 inch of water.
Bake for 45 minutes, until the squash is soft.Meanwhile, make the meat sauce.
To a medium pot, add the oil and heat over medium heat for a few seconds, and add the onions.
While the onions are turning translucent, add the ground meat to a small bowl, and mix in the rest of the spices.
Crumble the meat in the pot with the onions, and cook until the meat is no longer pink.
Stir in the 2 jars of tomato sauce and turn down the heat to simmer the sauce.
Once the squash is done cooking, allow it to cool for a few minutes enough to handle.
Use a fork to easily remove the strands of squash from the skin of the squash.
Serve the sauce over the squash.
Leftover squash can be quickly reheated in a sauce pan of boiling water for a few seconds, drained, and served with a little sea salt, pepper, and olive oil.