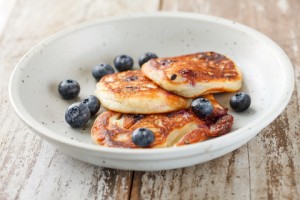 Blueberry, coconut flour Paleo pancakes are much healthier than wheat flour pancakes.  They have less carbs and much more fiber.
| | | |
| --- | --- | --- |
| |  1 Cup Coconut Flour |  1 Cup Wheat Flour |
|  Calories |  480 |  455 |
|  Total carbs |  64g |  95g |
|  Protein |  16g |  13g |
|  Fiber |  40g |  3g |
I made these pancakes for my husband, daughter, and my in-laws.  They were a big hit.  My husband doesn't like coconut but liked these pancakes.
Ingredients:
1 tablespoon coconut oil
4 eggs, room temperature
1 cup coconut milk
2 teaspoons vanilla extract
15 drops of liquid stevia
1/2 cup coconut flour
1 teaspoon baking soda
1/2 teaspon sea salt
1/4 teaspoon cinnamon
1 cup blueberries
Directions:
Preheat pan over medium-low heat and add the coconut oil. In a medium bowl, beat eggs until frothy. Mix in coconut milk, vanilla, and stevia.
In a small bowl, combine coconut flour, baking soda, sea salt, and cinnamon.   Mix well.
Pour dry mixture into the wet. Stir until most of the ingredients are mixed and most of the lumps are removed.
Pour in blueberries and gently stir until coated.
Pour batter into the hot pan to create pancakes that are about 3 inches in diameter. If the batter seems too thin, add a small amount of coconut flour at a time until you achieve the desired consistency.
Cook for approximately 3 minutes, flip, and cook an additional 2-3 minutes.
Serve with honey, syrup, or fruit, or eat them plain.