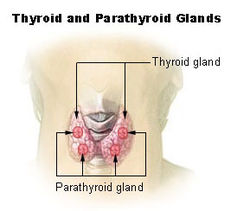 Do you have weight problems?  Do you have carpel tunnel syndrome?  Are you constantly cold when everyone else is all right with the temperature? Do you have a gluten allergy or a hidden gluten allergy?  Are you missing about a third of your eyebrows?
For years, I've thought I've had a problem with slow metabolism.  As it turns out, I didn't look into this until this past week when I was actually doing research on thyroid problems for a friend.  I had been reading for months that coconut oil is great for hypothyroid problems, so I wanted to research this more closely for her.
As I looked into the coconut oil and thyroid connection, I started realizing that I, too, most likely have a very serious hypothyroid problem – in the late stages.  In fact, I was just at a normal checkup at my doctor's office with past Monday, but my doctor didn't pick up on this problem, even though my temperature was low (more than a degree) like it has been all the other times I've been to see her.  I should have looked into this more closely years ago when I noticed the temperature problem.
I'm actually manifesting many physical symptoms and have for 20 years or more, but I just didn't realize these problems were all related.  I'm suspecting some symptoms from childhood, but for at least 20 years, I've had carpel tunnel syndrome.  Then, my hair went from straight-as-a-board to wavy, which obviously came about due to a big hormone change.  Over the years I've had other symptoms, like weight gain.  (Check out the Metabolic Symptoms Matrix.)  However, the big one lately has been that I've been abnormally cold and wearing a coat when everyone else has their coats off.
The past four days I've been taking my temperature and have been shocked by the results.  I'm definitely been having trouble self-regulating my body temperature.  Today, I ran outside with a coat on just long enough to get the mail, came back in, and took my temperature.  Yikes, 95.5 degrees Fahrenheit!  I'm struggling to average 97.0 daily when the average body temperature is 98.6 degrees.
Besides temperature problems, I've lost 1/3 of my eyebrows, or I should say the outside 1/3 is very sparse – a classic sign of hypothyroidism in the late stages.  (For a list of the stages and symptoms of hypothyroidism, see the Wikipedia article "Hypothyroidism.")  This hair loss in the eyebrows is called the Sign of Hertoghe or Queen Anne's sign. The sign is named for Eugene Hertoghe of Antwerp, a pioneer in thyroid function research.
I suspect that I also have adrenal fatigue.  The adrenals are two walnut sized glands that sit on top of the kidneys and produce three different classes of hormones.  If I do, I need to get the adrenal problem fixed first before the thyroid problem.  It could also be that I have other endocrine problems.
For a good part of the day today, I was searching for a holistic internist.  I'm not interested in taking medications, unless I absolutely have to, and I don't want to treat symptoms.  I want to treat the actual problems.  Medications mask the real problems and can do great damage in the body, causing other problems.  I want a full, non-standard physical of hair analysis, allergy testing, etc.
I discovered that a gluten intolerance damages the thyroid.  Well, last year I discovered that I had a gluten intolerance, so I can't eat wheat, rye, barley, and oats.  I wish I had discovered this years ago, but the damage is already done.
Hypothyroidism can literally be life-threatening.  People with hypothyroidism are much more at risk for high cholesterol, high blood pressure, diabetes, heart attacks, and heart disease.  As I find out more about my condition, I'll post more.  I hope to help others with undiagnosed hypothyroidism.