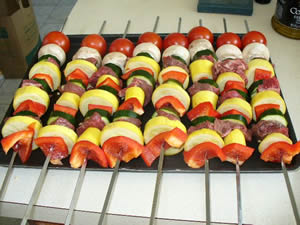 I was inspired to make this recipe after seeing the Fish Kebabs with Roasted Red Pepper Sauce recipe in the book Cook Yourself Thin Faster: Have Your Cake and Eat It Too with Over 75 New Recipes You Can Make in a Flash!
(There is a different variation on the Cook Yourself Thin website: Kebabs with Roasted Red Pepper Sauce.) I've made a few changes, and the recipe was a big hit.
Tip: I'm using grass-fed beef, which cooks faster than corn-fed beef.  Increase the cooking time as noted for corn-fed beef.
Serve with brown rice or over a bed of salad greens.
8 skewers (if using wood or bamboo, soak for 30 minutes beforehand)
2 pounds of grass-fed sirloin, cut into 24 pieces
2 baby green zucchini, cut into approximately 12 chunks each
2 baby yellow squash, cut into approximately 12 chunks each
2 peppers, cut into 24 chunks
24 small mushrooms
8 cherry tomatoes
Marinade:
3 tablespoons extra-virgin olive oil
1 tablespoon red wine vinegar
2 tablespoon fresh herbs (basil, parsley or rosemary), chopped, or 1 tablespoon dried
1/2 teaspoon paprika
1/4 teaspoon freshly ground pepper
Roasted Red Pepper Sauce:

Makes about 1 1/4 cups
1/2 cup Marzetti Light Classic Ranch Dressing
2 roasted and peeled red peppers, finely chopped
1 teaspoon lemon juice
Freshly ground pepper, to taste
Directions:
1. Preheat the oven to broil.
2. Line a cookie sheet with aluminum foil.
3. Place one zucchini chunk, one yellow squash chunk, a pepper chunk, a mushroom, and a beef chunk on a skewer. Repeat 2 more times. Then, add one cherry tomato to the end of the skewer. Place finished skewer on the cookie sheet. Repeat, filling the other seven skewers.
4. To make the marinade, in a small bowl mix the olive oil, vinegar, herbs, paprika, and pepper. Using a pastry brush, brush the kebabs with the marinade. This can be done up to three hours in advance if kebabs are stored in the refrigerator.
5. To cook, place the cookie sheet in the oven and cook for about 3 minutes before turning over the skewers and cooking them for another 3 minutes.
6. While the kebabs are cooking, combine and mix all the red pepper sauce ingredients in a bowl and serve alongside kebabs.