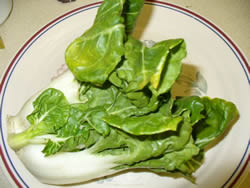 I bought some baby bok choy (Chinese cabbage), along with shitake mushrooms, at an Asian market, so I created a recipe to use them up along with a leek.  The mushrooms add a nice texture that is similar to meat.
This recipe makes a nice side dish, although you can add some beef or chicken and serve as a main dish.
The photo shows one of my baby bok choy.  Mature bok choy have long, white stems.
Ingredients:
1 cup of leeks
1 pound bok choy, coarsely chopped with green and white parts separated
8 ounces of mushrooms, sliced
1 tablespoon olive oil or lard
1 tablespoon sesame oil
Garlic Sauce:
1/4 cup water
1 tablespoon oyster sauce
1 tablespoon reduced sodium soy sauce
3 cloves garlic, minced
Preparation:
Cut off the leek's root end and discard.  Then, cut the leek lengthwise to open it up.  Peel off any layers that might not be fresh and discard.  Next, peel off several layers and wash them thoroughly to remove the dirt.  Then, coarsely chop the leek leaves.
In a small bowl, mix together the water, oyster sauce, soy sauce, and garlic.  Set aside.
Heat the olive oil over medium heat.  Add the white parts of the bok choy since they need to cook several minutes longer.  Once the white pieces are somewhat soft, add the leeks, mushrooms, and sesame oil.  Stir and cook for about 2 minutes.
Pour in the garlic sauce mixture and cook for another 2-3 minutes to allow the sauce to thicken.
Serves 4