Do you want to lose weight but are having trouble starting?  Are you looking for a comprehensive, inspirational weight-loss plan?  Do you know what type of metabolism you have?  Are you looking for healthier food choices?  Do you need recipes and a meal plan? Are you ready to take a hard look at what keeps you from losing weight?  Do you want to understand the science behind a healthier diet, so you can make your own wise decisions?  Are you ready to sweat?  Consider the book if you want answers to most or all of these questions.
I recommend Winning by Losing
by Jillian Michaels, best known as one of the trainers on the hit series The Biggest Loser, to help get you started losing, if you have a lot of weight to lose and have trouble getting motivated.  She says the book is for people who have at least 100 pounds to lose; however, this book could be just as useful to people who have 40 or 50 pounds to lose.  Maybe even 30 pounds.  I didn't know about the 100-pound guideline until I had read a little ways into the book.  While I only had less than 50 pounds to lose, I found the book quite useful, especially in the Science section.
The book is broken into three sections: Self, Science, Sweat.  From the beginning of the book, Jillian Michaels stays true to what she does on the TV series and wants people to confront the reasons why they are overweight.  This Self section would be great for people who haven't been in the process of losing weight and who need inspiration to start.  In fact, this section is necessary not only to get started but to keep weight off in the long run, and it could possibly be great to use to re-energize one's inspiration.  The chapters in this section are as follows: "Getting Real: Planning for Success," "Recognizing Emotional Triggers," "Reconfiguring Your World and Developing Support Systems," "The Right Attitude," and "Behavior Modification: Techniques for Forming Healthy Habits."
When I read this book in March or April, I already had been losing weight on my own, so I didn't find the Self section particularly helpful for me.  However, some of the information might have been helpful if I had read this book months earlier.  I did find some of her information in this section on body shape and on how that relates to fat storage on each of the three types quite interesting.   Also, she talks about the ideal waist-to-hip ratios and weight-to-height ratios.  While I didn't need the goal-setting information, it would be very helpful for one starting out.
The second section, Science, was my favorite because I was looking for the good, the bad, and the ugly parts of nutrition, basically what I should and shouldn't eat and why.  The chapters are as follows: "Weight Loss 101: Crunching Numbers," "Metabolic Typing," "Carbs: The Good, the Bad, and the Glycemic Load Index," "Good Fats versus Bad Fats," "Food Labels: How to Decipher Them," "Tips and Recipes for Cooking Healthy at Home," and "Eating Out."
I loved the part where she talked about caloric intake.  My own ideas up to this point, having studied hunter-gatherer populations, suggested to me that we shouldn't set a single calorie level because the body becomes acclimated.  Michaels, in fact, says the same thing for the same reason and shows how this varied caloric-diet would work, which I appreciated.
Another extremely useful part of the Science section talked about the three main metabolic types.  The book contains a questionnaire to determine one's type, which I found useful.  It confirmed what I already knew, but there was some interesting information, relating particular traits/problems with metabolic type.  Then, based on the different metabolic types, Michaels lists various foods that one should eat, limit, or not eat.
She then moves on to a discussion of good and bad fats.  She does a good cursory job of explaining the fats.  This macronutrient group has been maligned for years, hence the low-fat diet; however, fats are very much needed, albeit they need to be the right kinds.  While Michaels didn't mention this — but this is too important not to mention — eating the right fats are necessary to prevent cancer.
The last chapters of this section discuss food labels and tips, along with recipes for cooking at home.  Good recipes are necessary for any successful long-term eating plan, and Michaels does list a lot of them.
The last section is about exercises and how to do them.  She shows a sample exercise plan and talks about designing a workout routine that works for the reader.  Since I personally wasn't interested in this section, I skimmed each of the pages.  However, for interested people, this section would be ideal.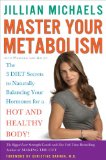 I recommend Winning by Losing
to people who need to get started losing quite a bit of weight and who need inspiration.  Michaels does a good job providing a comprehensive weight-loss and exercise plan, which is aimed at keeping off the weight.  I've moved beyond some of Michaels recommendations.  While they are a step in the right direction, the paleo diet is a better choice for meals.
Personally, I found Michaels Master Your Metabolism: The 3 Diet Secrets to Naturally Balancing Your Hormones for a Hot and Healthy Body!
more helpful to me, and I highly recommend the book; however, this book has a different focus and is not a comprehensive, motivational book.  Instead, Michaels presents her own compelling account of weight struggles, along with her three diet secrets where she presents a lot of science of why you should or shouldn't eat certain foods.  Like the reviewed book, this book also provides meal plans and recipes.  I actually bought Winning by Losing
because Michaels referenced it along with Making the Cut: The 30-Day Diet and Fitness Plan for the Strongest, Sexiest You
, which I also bought. 

This third book is for people with about 20 pounds to lose and want to do it in 30 days.  Unfortunately, the focus of these two books was not evident to me when I bought them.  Making the Cut: The 30-Day Diet and Fitness Plan for the Strongest, Sexiest You actually has a great deal of the same information as Winning by Losing, except it doesn't contain the large motivational section of the reviewed book.
Rating: ♥♥♥♥ (4 out of 5)