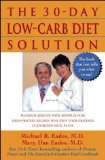 Do you have high blood pressure, cholesterol, or triglycerides?  Are you diabetic?  Do you want to lose weight? Maybe you have arthritis or some other auto-immune disease.  Perhaps you are just looking to eat healthily.  Maintaining good health and a healthy weight is all about managing your insulin levels.  The master hormone insulin is key to regulating energy and glucose metabolism, which comes from eating carbs.  Insulin, when dominant in your body, tells your body to store food as fat, to make cholesterol, and to do other functions, which, when working properly is fine.  However, our Western diets, high in carbs, create an overabundant amount of insulin in the body, leading to health problems, like an overabundant amount of body fat, cholesterol, triglycerides, among the other health problems mentioned above.  Therefore, managing your carbs is key.
Any successful long-term eating plan requires great, satisfying food, so this is why The 30-Day Low-Carb Diet Solution by Michael Eades, M.D., and Mary Dan Eades, M.D., which I highly recommend, becomes important.  This book contains wonderful low-carb recipes and meal plans to get you off to a terrific start, managing your health.
Because carbs are causing the health problems I mentioned above and many more, cutting back carbs to a low-carb diet has powerful, positive effects on the body.  However, that requires that I mention that if you are taking medications, you should talk to your doctor about carefully monitoring you in the first few weeks of this eating plan, since your medications will need to be reduced or even eliminated.
Unlike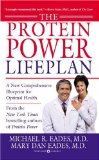 The Protein Power Lifeplan
by the same authors, which I already reviewed, this book doesn't go deeply into the scientific reasons for eating a high-protein, high-fiber, lower-carb diet.  However, I wouldn't expect it to, either, since this book is really about meal plans and recipes and how to:
Identify the foods you should eat–and avoid the ones you shouldn't
Create a customized plan based on your current weight, health status, and goals
Determine how much protein to eat for optimal health
Easily determine the exact portions of carbohydrate-rich foods you can enjoy now to reach your goals
The first quarter of the book presents information on why low-carb works; on how to ready yourself for a low-carb diet, which tells you, among other things, how to determine your minimum protein requirement; and on what to eat when it comes to carbs and fats.  This book, being more recent than The Protein Power Lifeplan
, does present the notion that unfermented soybean products may be a health risk, which I was happy to see.  Since its publication in 2003, there is plenty of research that supports this.  Please see the article "Newest Research on the Dangers of Soy."
The rest of the book contains 30 days of meal plans and about 100 recipes, self-assessment quizzes, and fill-in worksheets for tracking your progress.  I like recipes with common or easy-to-find ingredients, which this book has.
I highly recommend this book to those who are looking to eat more healthily, lose weight, and/or solve various health problems.  If you are looking for Paleolithic diet recipes, many of the recipes fulfill the requirements, but some don't, as they contain dairy products and Splenda.
Rating: ♥♥♥♥♥ (5 out of 5)